Monday, November 03, 2008 Last Update 18:30 PM CET
THE SAD SMOKY MOUNTAINS & skyscrapers
A CIVIL ACTION AND A WORK OF ART
conceived and directed by Alberto Peruffo

>> click below options to know something random about it <<
opt1 opt2 opt3 opt4 opt5 opt6 opt7

HRrAa VS PEM [EMP]*
a 10545 pixel story web page

ENTER to SSM&S Paris Action 080808 >>>>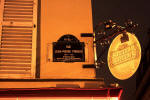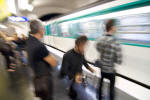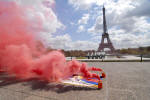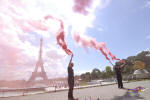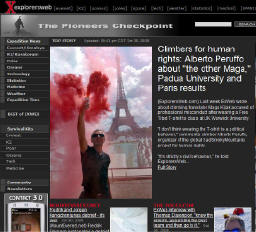 the 31th October Cover of ExplorersWeb [ New York - USA ]

Maga's t-shirt too hot for Warwick University
OUR SUPPORT TO MAGA!

>> FINAL IGNITION 8 AUGUST: PHOTOS & VIDEOS HERE <<


daily updated >> new galleries
Monte Carega / Monte Stivo / Monte Monch

>> FIRST IGNITION 11 MAY: PHOTOS & VIDEOS HERE <<



ENTER to SSM&S Final Ignition COVERS PAGE
04/10/08 COVER


Cover Photo 08
ROBBEN ISLAND - SOUTH AFRICA
ExWeb's polar editor Correne Erasmus-Coetzer
>> SSM&S DAYS REPORTAGE <<

ENTER to SSM&S Final Ignition COVERS PAGE


Cover Video 08
CORNI DI CANZO
(east + west side) 1371
Italian Prealps
Italy
M. Bevilacqua & Trittoni Marini
<< hyperlink >>

SPECIAL SEPTEMBER 05 VICENZA
photos >> IL TRISTE PALLADIO FUMANTE << news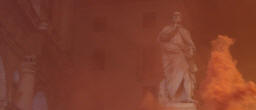 last act of SSM&S

>> SSM YOUTUBE CHANNEL - ON LINE VIDEO ARCHIVE <<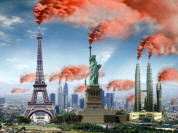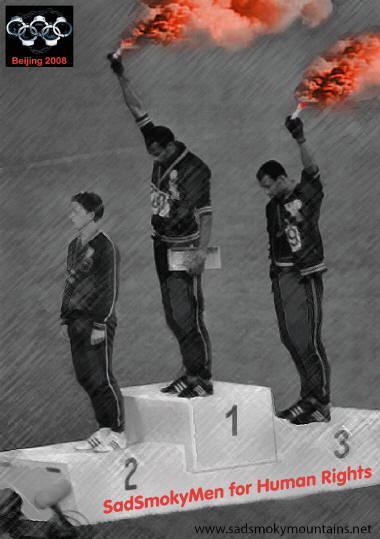 >> READ THE OLYMPIC MAIL <<
DEAR PARTICIPANTS
Alberto sincerely thanks everybody for the extraordinary participation!
PLEASE SEND PHOTOS AND VIDEO FILES
ONLY
TO THIS EMAIL:
sadsmoky@antersass.it
Here some anticipations of FINAL IGNITION
MORE THAN 130 MOUNTAINS AND CITIES IN THE WORLD

«Il vento ha disperso il fumo, ma l'azione ed il suo significato hanno riempito i nostri cuori»
Gabriele Villa, Ferrara Group
Gisborne - New Zeland




Brett Mead

Paris - France


Alberto Peruffo

New York

- Usa




Mount Everest Team

Vicenza - Italy


Francesco Ambrosi

Croagh Patrick - Ireland


Tom Gallagher

Cremona - Italy


Igor Pesce

Venezia - Italy


Cristina Romieri

Punta Dimai - Italy


Cristina Bacci

Monte Verena - Italy
Centro Diritti Umani - UniPd

Verona - Italy
Davide Chiari

M. Maroon - Australia
Nadia Wood

Somewhere in Iceland
?
Alberto Peruffo & friends in Paris:
[ see the photos page * download hi-resolution photos by Leonardo Tommasin ]
[ NEW!! PRESS RELEASE 08 Agosto - COMUNICATO - ITA ]
[ PRESS RELEASE 07 Agosto - COMUNICATO - ITA ]
UNA NUOVA FORMAZIONE STA NASCENDO
a new formation is rising up
IN PEACE AND SILENCE
WE ARE HRA
HUMAN RIGHTS ARTISTS
WE RESPECT PEOPLE AND THINGS


WE BORROW ONLY A PIECE OF
SKY
Italian Version

English Version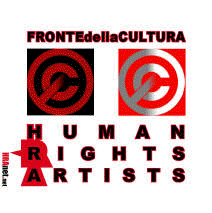 special thanks to
[ ITALIA TIBET ] [ CANDLE4TIBET ] [ CENTRO DIRITTI UMANI UNIVERSITA' DI PADOVA ] [ MOUNTAIN WILDERNESS ]

080808 SSM&S Final Ignition is dedicated
to Gianfranco Joannas, our friend recently passed away

***********************
Alberto Peruffo Concept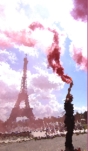 Fattoria Artistica Antersass >> FRONTEdellaCULTURA >> HRA
2000-2008